What we do
The brothers Dr.Drax 1983 and Pase 1981 are One Truth.
Active crew members and friends are "Werk" he is always up for a good painting session. "Pixel" is the webmaster and helps alot with web support.
In 1998, the brothers discovered their passion for graffiti and working autodidactic in the underground. One truth graffiti existing since 2003.The graffiti artists of One Truth has helped to shape street art for years, also the cityscape of Zurich. They are part of the swiss graffiti culture and are internationally renowned.
They have worked with legends like Cope2 or Bates.
Through passion, years of experience, and the technical knowledge of the combination of various means and techniques of creating, one truth graffiti is able to provide their clients with competent advice.
This ensures creative solutions for every project and every formate. The eye-catcher is guaranteed!
One Truth do not know any limits in their creativity, arrangements and visualisation. Whether graffiti mandate or canvasses, cars, trucks, pieces of art, live paintings, expositions, illustrations, installations, photo realism, digital graphics, interior space, airbrush, tattoos or entire facades of buildings, anything goes ! One Truth delivers custom tailored concepts and solutions.
One Truth stands for innovative ideas and precise handwork in Swiss quality, with his own style.
Looking back over the last 12 years one truth realized uncountable projects for them self, for private clients, big companies and renowned gallerys. One Truth are famous for their pioneer spirit, fresh street art and their enthusiasm in creating Projects for numerous enthusiastic private and corporate clients were carried out.
Internationally renowned one truth are among the most well known graffiti artists in Switzerland.
See Artworks and Reference.
Art on Building / Art in Space
(Rötelstrasse Zürich 2012)
One truth's emphasis is on the execution of custom tailored concepts. One truth integrates the environment in their handwriting and form language that is second to none. The latter is carried out through a holistic process of creation. One truth develops arrangement projects for private and public space. One truth faithfully sticks to their strategy and branding, from beginning to end. One Truth paint street art murals around the globe.
Exhibition / Canvas

(Hungry House, Privat Art Collection Gallery Vertes Modern, Bahnhofstrasse 3 Zürich, 2014 // First Street art Auction Switzerland, Galartis Auction 2015, incl. Banksy, Invader, Obey, Taki183, Cope2, Quik, Jonone, Kaws, Jef Aerosol etc..)


The newest street art graffiti exhibition pieces on canvas can be purchased by urban art lovers in renowned art galleries,on auctions, art fairs and art events world wide or in one truth's online shop. Of course interested persons can fix an appointment to get personal advice. They are welcome to enjoy and purchase the currently exhibited pieces at one truth art gallery.
In one truth studio, ideas and projects are being born; one truth regularly do street art exhibitions of their exclusive works. On request, one truth will realize your dreams on canvas.
One Truth is proud to announce the purchase of 4 art works for the Vertes Modern art collection. The collection includes great masters such as Picasso, Miro, Richter, Warhol, Lichtenstein,etc.. The artworks can be seen in the gallery Vertes Modern Bahnhofstrasse 3 8001 Zurich Switzerland.
One Truth also be on the first swiss street art auction catalog from Galartis Auction House with many legends like Taki183, Cope2, Lee, Jonone, Quik, Naegeli, Banksy, Blek le rat, Obey, Invader etc.. One Truth sold 2 artworks at the auction.
Workshop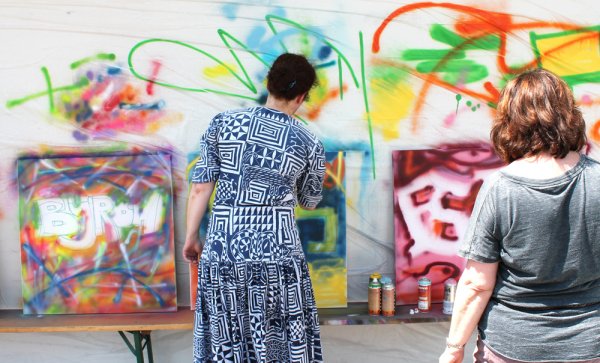 (Workshop One Truth Studio)
One truth offer their knowledge at graffiti workshops to schools, companies, clubs and events. A graffiti workshop is ideal for teambuilding, painting therapy or as a creative supplement to your event.
One truth offer on request workshops for groups at their own studio. Each participant can learn the handling of a spray can and gets a deep insight into street art by professionals, as well as the use of various forms of arrangement tools.
Live Painting
(Expo Milano Swiss Pavilion 2015)
Street art live painting is an attractive option for companies to make their small or large events unforgettable. Live painting attracts the spectators' attention and is an ideal advertising medium, especially at highly frequented locations. Spectators can see in real time how a piece of art is created.

Contact
Are you interested in one truth? Do you have any questions?
Please make an appointment and visit us in the one truth studio.
043 300 32 94
076 416 84 76
info@onetruth.ch